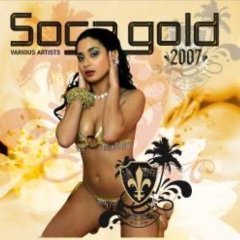 SOCA GOLD 2007 - VARIOUS ARTISTES(CD & DVD-Live footage of Carnival 2007)
$12.99 $7.99 On Sale!
0296

SOCA GOLD 2007 (BONUS DVD) - VARIOUS ARTISTES - BUY NOW
If you couldn't go to Carnival this year take a trip with Soca Gold 2007! Every year Carnival competition determines the biggest Soca hits and Soca Gold is the soundtrack to Carnival, compiling the year's biggest tunes. Soca Gold 2007 features hits such as 'Woman By My Side' by Peter Ram, 'Agua' by the unstoppable Edwin Yearwood, 'Born For Dis' from Mr. Dale,I Dare You from Destra, 'Dutty' from Blaxx and 'Blaze It' from Soca's fiyah man Bunji Garlin. The bonus DVD includes live footage from Carnival 2007 and enough videos to keep you feelin Soca groovy!


TRACK LISTING 


1    CARNIVAL SYMPHONY - KIMBERLY INNISS  
2    DUTTY - ROY CAPE FEAT.BLAXX  
3    MAKE A STAGE (M.A.S.) - FAY-ANN LYONS  
4    WOMAN BY MY SIDE - PETER RAM  
5    I DARE YOU - DESTRA  
6    AGUA - EDWIN YEARWOOD  
7    GET WILD - OLATUNJI YEARWOOD  
8    SPREAD THE LOVE - MR.SLAUGHTER  
9    BORN FA DIS - MR.DALE  
10    WINE YUH BUMPER(NO WALL FLOWER) 
 KROSFYAH   Featuring KHIOMAL NURSE  
11    BLAZE IT UP - BUNJI GARLIN  
12    ALL DAY ALL NITE - LIL RICK  
13    BOUNCE AND MOVE - RITA JONES  
14    EXPOSE PRECISION ROAD MIX - EL-A-KRU  
15    LAST BAND - RIKKI JAI  
16    WINE ON ME - SEAN CARUTH  
17    JUMPING UP - K.V.CHARLES  


GET IN THE ZONE-MORE SOCA ZONE ALBUMS