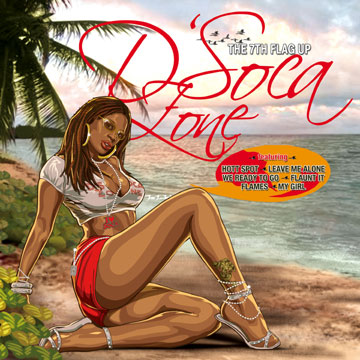 D SOCA ZONE 7TH FLAG UP - VARIOUS
$12.99 $10.99 On Sale!
0262

D'SOCA ZONE 7TH FLAG UP (2 CD'S)-VARIOUS ARTISTES . Once again get into the Zone , De Soca Zone,this time 7th Flag Up with some of the hottest Caribbean songs. SENSAY's favorites are "LEAVE ME ALONE" by Jamesy P and Skarpyon as well as Skarpyon's "Turn the Lights Down Low". However The Red Hot Flames will take you on a joy ride with "Quad Ride". T&T Soca Monarch Shurwayne Winchester and Krosfyah's Edwin Yearwood duet with "We Ready to Go" while Edwin solos with "Hott Spot" and Kevin Lytttle's gives us his version of "My Girl".
Antigua 's Soca Monarch, Claudette Peters along with the Taxik Band revs it up with "Flaunt It".


TRACK LISTING


 
1    HOTT SPOT - EDWIN YEARWOOD  
2    JUMP, WAVE - MADZZART  
3    LEAVE ME ALONE - JAMESY P. FEAT. SKARPYON  
4    WE READY TO GO - EDWIN YEARWOOD FEAT. SHURWAYNE WINCHESTER  
5    FLAMES - JABAE FEAT. BARRY & BRUCE CHANDLER  
6    QUAD RIDE - RED HOT FLAMES  
7    I LIKE IT (C'EST BON) - MYSTIK VIBRATION  
8    HIGH ON THE DANCE FLOOR - H2O PHLO  
9    TURN THE LIGHTS DOWN LOW - SKARPYON  
10    MY GIRL - KEVIN LYTTLE  
11    FLAUNT IT - TAXIK BAND FEAT. CLAUDETTE PETERS  
12    WINE DOWN LOW - RAMESES FEAT. MALCOLM X & STYLEZ P  
13    EXPOSE - EL-A-KRU  
14    TROUBLE - VERT-X  
15    MY EVERYTHING - BUD  
16    ALL OVER YOU - STATEMENT