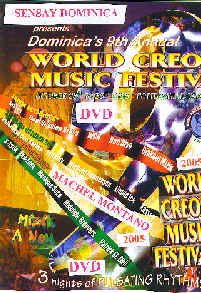 DVD - WORLD CREOLE MUSIC FESTIVAL 2005
$16.99 $10.99 On Sale!
0249

The Long awaited NINTH ANNUAL WORLD CREOLE MUSIC FESTIVAL captured live in DOMINICA on DVD is a memorable event of THREE NIGHTS OF PULSATING RHYTHMS.
Friday night features COOL SESSION BRASS OF THE VIRGIN ISLANDS,- BAN BIYO,- DJAKOUT MIZIK - AND W CK.
Saturday night features TI-KABZY,- MICHELE HENDERSON,- LIQUID ICE and - KASSAV.
Sunday night features TRIPPLE KAY - MONIQUE SECA,- PATRICK ST ELOI,- MIDNIGHT GROOVERS,- MACHEL MONTANO and XTATIK.

However sit back relax and enjoy the show
in its entirety on this DVD.As Machel quotes, "Ive never seen so many West Indians from different islands in one place".
Check it out and GET A COPY NOW and also
COME TO DOMINICA TO ENJOY MORE OF THE 10TH ANNUAL WORLD CREOLE MUSIC FESTIVAL IN OCTOBER 2005.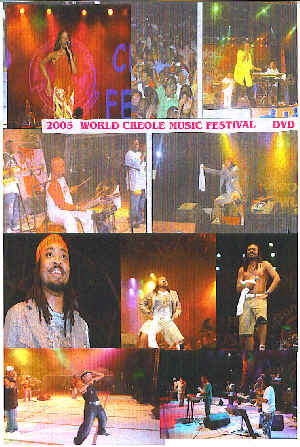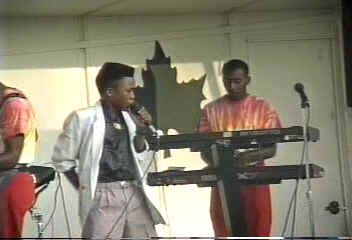 AVAILABLE NOW-----MACHEL LIVE AT ROY WILKINS PARK,QUEENS NY,JULY 1989 --
CHECK OUT MAIN SENSAY HOME PAGE

CDS AND DVDS AVAILABLE HERE

SUPER HEROES BY JAMBAND


DE REAL DEAL by RED HOT FLAMES


EBRY BADY HA FU NYAM by ONYAN & BURNING FLAMES


WORLD CREOLE MUSIC FESTIVAL 2003-DVD
WORLD CREOLE MUSIC FESTIVAL 2004-DVD


MORE WORLD CREOLE MUSIC

2006 WORLD CREOLE MUSIC FESTIVAL SITES




CONTINUE SHOPPING