WELCOME TO THE SWINGIN STARS' WEBPAGE

---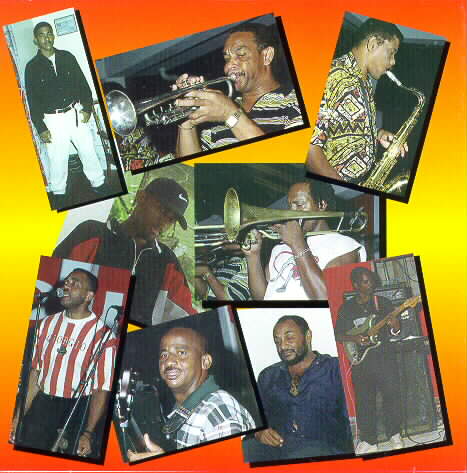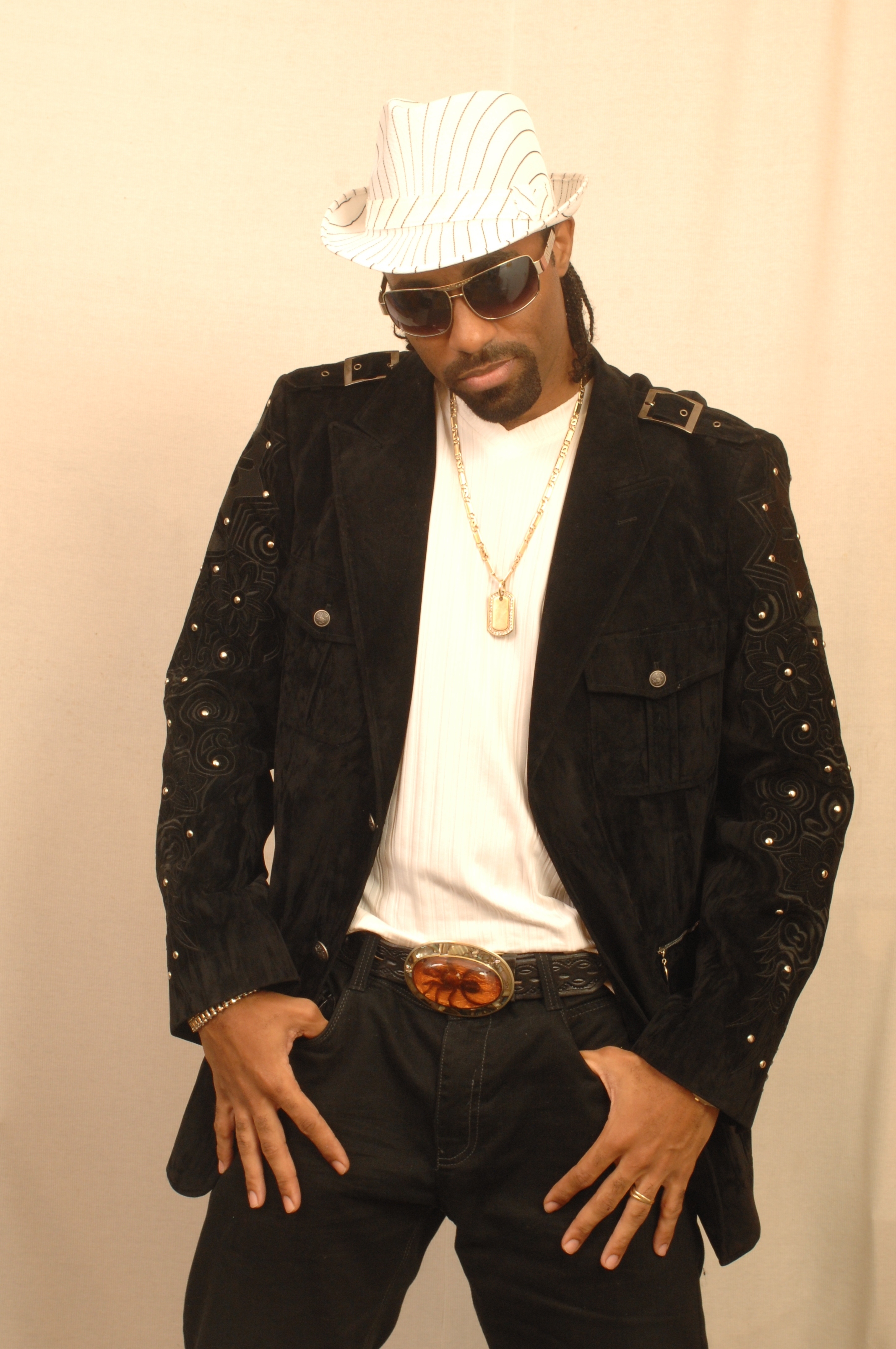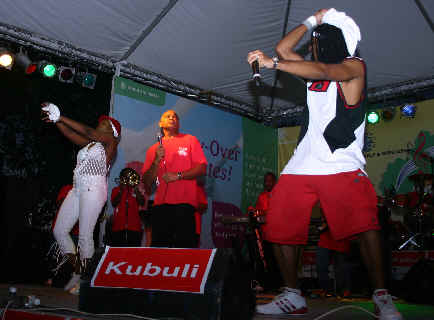 Swingin Stars featuring DADDY CHESS,Philip Horsford, Natalie "Flava" Marshall
and Peter Letang on keyboards

(Photos by Major Francis Richards)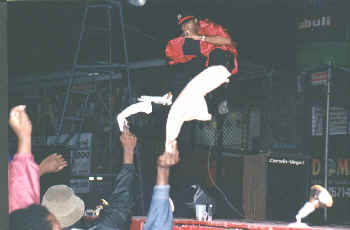 DADDY CHESS,FRONTMAN OF SWINGIN STARS WAS
THE 2001 CALYPSO KING OF DOMINICA
PLACED 4TH IN 2003 CALYPSO FINALS
PLACED SECOND IN 2008 CALYPSO FINALS
WON 2008 ROAD MARCH WITH "FORWARD WE GO"
Check out the this website regularly
for more information AND GET YOUR CDs NOW!!!
NEWS UPDATE
CALENDAR OF EVENTS
SWINGIN' STARS RECEIVED
2004 SUNSHINE AWARDS IN NEW YORK CITY
ON OCTOBER 16, 2004
STARDOM TENT KINGS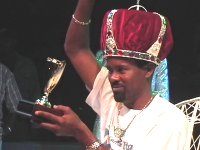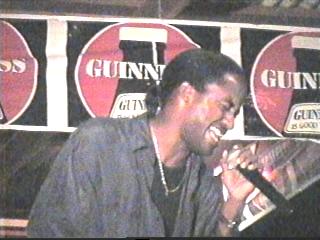 2002/2003 Calypso Monarch De Observer of the STARDOM TENT(left)
Lord Caressa-2003 STARDOM KING OF THE TENT(CENTER)
Calypsonian De Bobb(2nd Place)
STARDOM 2003 KING OF THE TENT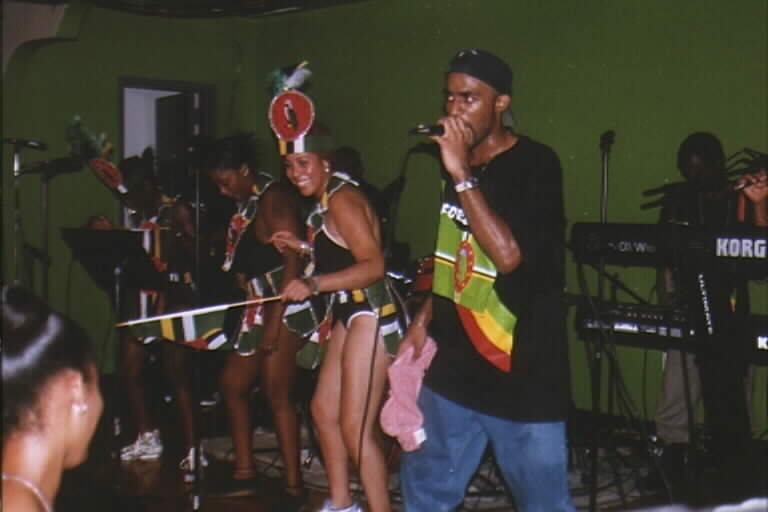 Swingin'Stars as they played in Brooklyn during Labor Day 1998
FOR MORE PHOTOS AND FOR THE HISTORY OF SWINGIN STARS CLICK ON- SWINGIN' STARS PHOTOPAGE
OR FROM "IN ORBIT" TO "STARS PON DE VERSION"
("Return to Orbit","Hands Up"
and "Stars Pon de Version" CDs available now!!)
TO DOWNLOAD REALAUDIO PLAYER- CLICK HERE-
Check out CLIPS from the new Swingin Stars CD album

-"STARS PON DE VERSION"- CLICK ON 
STARS PON DE VERSION
MAMBO #5 (Originally by Cuba's Perez Prado)
CHOOK
ITS TIME



Allow at least 4 to 5 minutes for the songs to load

TO BUY CD's GO TO THE SENSAY STORE PAGE


OR CONTACT THE SENSAY MAN AT 718-848-0971- SENSAY@SENSAY.COM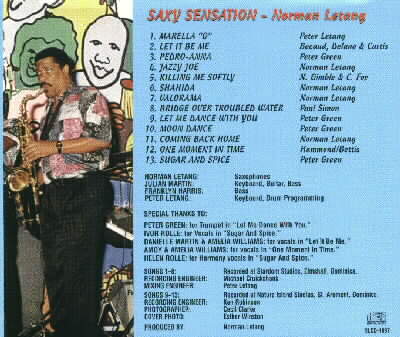 Norman Letang's solo CD album-"SAXY SENSATION" /FONT>
Listen songs from the CD CLICK ON LET ME DANCE WITH YOU by PETER GREEN(trumpet)
accompanying Norman Letang on Sax

Click here for WCK HOME PAGE

SEND YOUR GREETINGS ON THE GUEST BOOK BELOW!!
---
View Our Guestbook
Sign Our Guestbook
SWINGIN STARS HOT LINKS

SENSAY MUSIC CD AND DVD STORE
DOMINICA CARNIVAL NEWS UPDATES
HISTORY OF SWINGIN STARS
RETURN TO ORBIT(Swingin Stars)
CARNIVAL and MUSIC BAND LINKS
HIT ME WITH MUSIC
WHERE DE PARTY IS? ENTERTAINMENT PAGE
MORE PARTY JAMS

Email: webmaster@sensay.com
TOP OF PAGE
© 2015 SENSAY DOMINICA PRODUCTIONS