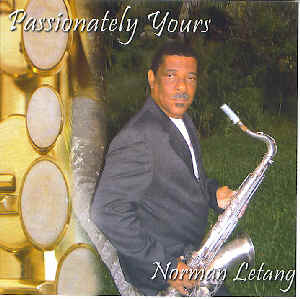 NORMAN LETANG - PASSIONATELY YOURS
$12.99 $4.99 On Sale!
0312

PASSIONATELY YOURS BY NORMAN LETANG is Norman's second solo album.
This CD showcases the silky smoothness of the saxophonist, Manager and Bandleader
of Dominica's longest running calypso band, the "Swingin' Stars".
A gifted musician, Norman and his family also play for the Music Lovers Band,
a local ceremonial marching band. The twelve instrumental tracks are "nice and easy listening music".
Among the favorites are "My One True Friend", "Nadia's theme",
"The Glasgovian", "Aly N Kay", "Valancy" and "Nice and Easy" .
Norman is accompanied by members of his band, of course,
particularly his son Peter on keyboards and drum programming,
veteran guitarist Julian Martin, old band leader
Jim Garraway on guitar and trumpeter, Bing Casimir.
This is a collector's item for Jazz,Rhythm and Blues,Reggae and Dance fans.