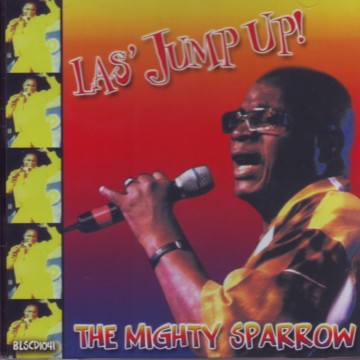 MIGHTY SPARROW - LAS' JUMP UP
$12.99 $10.99 On Sale!
0274

LAS JUMP UP by the MIGHTY SPARROW is really A LAS LAP JUMP UP FOR CARNIVAL 2007. So Back off yu shirt and get ready to party with this CD from the Calypso King of the World. The first song on the album includes a verse attributed to the late CARLOS LEZAMA, past President of the West Indian American Day Association, promoters of "LABOR DAY MAS IN BROOKLYN". Another tune, the "las lap Medley" is one of the hot tracks and includes "Amba Kai La", "Sly Mongoose", "Fire Fire", "Yu bucket have a hole","My Pussin" and other Classic Carnival hits.




 TRACK LISTING
 
1  LAST LAP- PT1- BACCHANAL 
2  DOH STOP DE CARNIVAL 
3  TANTY'S SECRET 
4  PAR QUIEA MWEH 
5  SOCA JAM BACK 
6  BOTH 'O DEM 
7  LAST LAP- DANCE HALL MEDLEY 
8  SOCA PRESSURE 
9  SHAKE FOR CARNIVAL 
10  THE COCK EYED ROOSTER 
11  STAG THE RESESSION FIGHTER 
12  LAST LAP- PT2- JUMP UP 
 

OTHER SPARROW CDS AND DVDS


DVD - MIGHTY SPARROW IN JAPAN


BARACK (OBAMA) THE MAGNIFICENT


MIGHTY SPARROW VS LORD MELODY CALYPSO CLASSICS CD


ALL THE GIRLS


A MOTHER'S LOVE AND SPAROWW CLASSICS VOL FOUR


PHILIP MY DEAR(A MAN IN ME BEDROOM)


CORRUPTION(includes Trib. to Dr ML King Jr)


DANCE PARTY GOLD CLASSICS (Marinjin,Melda,Drunk & Disorderly,Sa Sa Yea,Ms.Mary..etc)

DVD-MIGHTY SPARROW LIVE IN CONCERT VOL 1 DISC 1


DVD-MIGHTY SPARROW LIVE IN CONCERT VOL 1 DISC 2


DVD-MIGHTY SPARROW LIVE IN CONCERT VOL 1 DISC 3


DVD-KING OF KINGS OF CALYPSO VOL 1


DVD-KING OF KINGS OF CALYPSO VOL 2


16 CARNIVAL ROAD MARCH HITS-Mighty Sparrow/Lord Kitchener

MIGHTY SPARROW'S EARLY YEARS