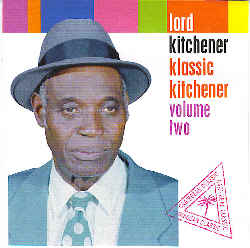 LORD KITCHENER - KLASSIC KITCHENER VOL TWO
$12.99 $5.99 On Sale!
0156

KLASSIC KITCHENER VOLUME TWO BY LORD KITCHENER captures most of the Road March titles won by the Lord Kichener in Trinidad and Tobago.From the 1963 Road March, "The Road" and two other successive Road Marches,"Mama Dis Is Mas" and "My Pussin" Kitch stole the show in Carnival. Although he was stopped by Sparrow's Melda in 1966,Kitch continued with "67" in 1967 and "Miss Tourist" in 1968. He also adds some humor with "Take Yuh Meat Out Me Rice" and "Love in De Cemetry."